SERVICE CAPABILITIES
SEC SERVICE CAN BE COUNTED ON TO MAINTAIN THE PERFORMANCE QUALITY, RELIABILITY AND LIFE OF TRANSFORMERS, LTCS AND OTHER COMPONENTS THROUGHOUT YOUR ELECTRIC POWER SYSTEM - WHETHER MANUFACTURED BY SEC OR OTHER SUPPLIERS WORLDWIDE. SEC OFFERS A WIDE RANGE OF SERVICES, MAINTENANCE AND ENGINEERING SUPPORT TO GET YOUR TRANSFORMERS INTO SERVICE, KEEP THEM RUNNING IN TOP CONDITION AND DISASSEMBLE AND REPLACE OLD EQUIPMENT.
SEC SERVICE CAN ALSO LEND A HAND WHEN YOUR WORK CREWS BECOME OVERLOADED, BECOMING A REGULAR SUPPLEMENT TO YOUR MAINTENANCE AND INSTALLATION WORKFORCE AS THE NEED ARISES. AND, IF YOU NEED TOTAL SUPPORT, YOU CAN LOOK TO SEC SERVICE TO HANDLE ALL OF YOUR MAINTENANCE FUNCTIONS FOR DEPENDABLE ASSET MANAGEMENT AND CONTROL: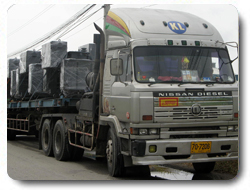 TRANSFORMER SERVICES TECHNICAL SUPPORT TOOLS AND RESOURCES THINK OF SEC SERVICE AS AN EXTENSION OF YOUR CAPABILITIES. SEC CAN WORK FROM A BID AND PURCHASE ORDER PROCESS OR DEVELOP A CLOSER WORKING RELATIONSHIP THROUGH A MASTER SERVICE AGREEMENT THAT'S UNIQUELY TAILORED TO YOUR SITUATION.
NATIONWIDE SERVICE FLEET - WITH TRAINED AND QUALIFIED PERSONNEL LOCATED ACROSS THE THAILAND, SEC SERVICE IS READY TO RESPOND TO YOUR SERVICE NEEDS WITH A WIDE RANGE OF TOOLS AND EQUIPMENT TO GET THE JOB DONE:
VACUUM OIL PROCESSING RIGS
OIL TANKER TRUCKS
BOOM TRUCKS AND TOOL TRUCKS
SPECIALIZED TEST EQUIPMENT
MORE!
LOCAL SEC SALES & SERVICE REPRESENTATIVES ARE AVAILABLE TO DISCUSS YOUR REQUIREMENTS AND MAY INVOLVE AN EXPERIENCED SEC SERVICE PROJECT ENGINEER TO THOROUGHLY UNDERSTAND THE SCOPE OF YOUR WORK BEFORE PROVIDING A QUOTATION. SEC FIELD SERVICE MANAGERS ARE ALSO READY TO GUIDE OUR SERVICE TECHNICIANS TO EFFICIENTLY AND ACCURATELY COMPLETE THE CONTRACTED WORK TO YOUR SATISFACTION WITHIN THE AGREED TIMEFRAME.