TRANSFORMER CONDITION ASSESSMENT & LIFE EXTENSION
SEC SERVICE CAN DELIVER THE PEACE OF MIND YOU NEED! WAITING FOR A SERVICE OUTAGE TO OCCUR IN ORDER TO ASSESS YOUR POWER EQUIPMENT IS NOT AN OPTION. YOUR CUSTOMERS NEED RELIABLE ELECTRIC POWER AND YOUR SUBSTATION TRANSFORMERS AND EQUIPMENT MUST BE IN TOP CONDITION TO DELIVER. TAKE THE TIME NOW FOR A COMPREHENSIVE POWER EQUIPMENT CHECK-UP BY CONTACTING YOUR SEC SERVICE REPRESENTATIVE.
SEC SERVICE CONDITION ASSESSMENTS CAN HELP IDENTIFY THE PRESENT CONDITION OF YOUR TRANSFORMERS AND THEIR COMPONENTS, ESTIMATE REMAINING LIFE, MAKE LIFE EXTENSION SUGGESTIONS AND HELP WITH ECONOMIC DECISIONS FOR FUTURE REPAIR OR REPLACEMENT ACTIONS TO IMPROVE THE PERFORMANCE RELIABILITY AND EXTEND THE LIFE OF YOUR ASSETS.
SERVICE RECOMMENDATIONS ARE MADE BASED ON INFORMATION GATHERED FROM MANY SOURCES: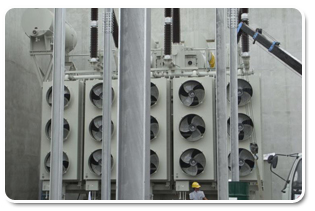 EXTERNAL EXAMINATIONS
TRANSFORMER TANK
GAUGES
BUSHINGS
ARRESTERS
LOAD TAP CHANGER
CONTROL