OIL PROCESSING
SEC SERVICE IS READY TO RESPOND WHEN YOUR TRANSFORMER IS READY FOR OIL. AN EXPERIENCED TEAM OF FIELD SERVICE TECHNICIANS AND SERVICE PROJECT ENGINEERS ARE AVAILABLE WITH THE LATEST EQUIPMENT AND TOOLS TO HANDLE YOUR OIL PROCESSING NEEDS: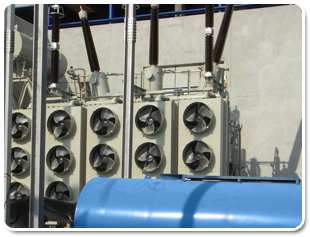 DRAIN OIL FROM TRANSFORMER / EQUIPMENT
STORE OIL ON-SITE IN TANK TRUCKS (EITHER YOUR TRUCKS OR OURS)
PULL VACUUM ON TRANSFORMER (TO YOUR SPECIFICATIONS OR OURS)
VACUUM DEGASIFY AND DEHYDRATE NEW OR USED OIL
RECLAIM / IMPROVE PHYSICAL AND CHEMICAL CHARACTERISTICS (USING FULLERS EARTH PROCESSING, IF NECESSARY)
SEC HAS MORE THAN A DOZEN VACUUM PROCESSING RIGS IN THE USA WITH CHARACTERISTICS THAT MANY OTHER SERVICE PROVIDERS MAY NOT HAVE:
STATE-OF-THE-ART EQUIPMENT AND TECHNOLOGY
TOTALLY SELF-CONTAINED RIGS
GENERATOR WITH FUEL STORAGE
AIR-CONDITIONED CONTROL ROOM FOR INSTRUMENTATION AND OPERATORS
OIL PROCESSING CAPABILITY AT RATES UP TO 12,000 L./HOUR
DESIGNED TO DE-GAS OIL TO APPROXIMATELY 1% TOTAL DISSOLVED GAS - IN-LINE TDG ANALYZER PROVIDES REAL-TIME ANALYSIS
DESIGNED TO DEHUMIDIFY OIL TO APPROXIMATELY 1PPM MOISTURE
ABLE TO RAISE OIL TEMPERATURE 70 DEGREES F IN ONE PASS USING 190 KW OF HEAT

NOTE: OIL IS TYPICALLY PROCESSED AT APPROXIMATELY 140 DEGREES F, BUT HIGHER TEMPERATURES ARE POSSIBLE AT CUSTOMER'S REQUEST.

INLET OIL FILTERED AT 10 MICRONS
OUTLET OIL FILTERED AT 0.5 MICRONS
HIGH VACUUM CAPABILITY WITH TWO 171 SCFM VACUUM PUMPS AND A 1449 SCFM BOOSTER FOR A BROCHURE ON OUR OIL PROCESSING CAPABILITIES, DOWNLOAD THE FOLLOWING ADOBE ACROBAT FILE:

TRANSFORMER DRYOUTS & OIL PROCESSING
IN ADDITION TO OIL PROCESSING, SEC HAS THE EQUIPMENT, EXPERIENCE AND CAPABILITY TO COMPLETE OTHER REPAIRS AND/OR UPGRADES YOU MAY ELECT TO PERFORM WHILE YOUR TRANSFORMER IS DRAINED OF OIL SUCH AS INSULATION DRYOUTS, BUSHING REPLACEMENTS, LTC REPAIRS/UPGRADES, FR3 RETRO FILL, ETC.; COMBINING SERVICES CAN MINIMIZE COSTS AND TRANSFORMER DOWNTIME.