TANK CONSTRUCTION
TANK INTEGRITY IS ESSENTIAL FOR RELIABILITY AND LONG TRANSFORMER LIFE. TO ENSURE A PERFECT FIT TO THE APPLICATION,SEC DESIGNS AND FABRICATES ALL TRANSFORMER TANKS TO CUSTOMER SPECIFICATIONS.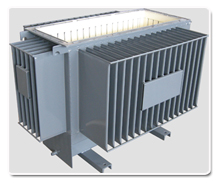 TANKS FABRICATED FROM HOT-ROLLED, LOW CARBON STEEL PLATES ARE PLASMA CUT TO CRITICAL TOLERANCES THEN JOINED VIA SUBMERGED ARC WELDING TO ENSURE AGAINST CRACKED SEAMS AND IRREGULARITIES.
TANKS ARE BRACED TO WITHSTAND VACUUM AND PRESSURES 25% GREATER THAN ACHIEVED DURING NORMAL OPERATION.
TANK CORNERS ARE BENT TO ELIMINATE CORNER WELDS.
JACK PADS AND LIFTING HOOKS ARE PROVIDED ON THE TANK FOR LIFTING, JACKING OR PULLING.
COMPLETED CORE AND COIL ASSEMBLY IS FITTED TO GUIDES IN THE TANK AND IS SOLIDLY BRACED TO PREVENT SHIFTING DURING SHIPMENT.
TRANSFORMER TANK COVERS ARE SLIGHTLY DOMED TO PREVENT WATER ACCUMULATION.
OPENINGS IN THE COVER USE RAISED FLANGES WITH MACHINED GASKET GROOVES TO PREVENT BOLTS FROM EXTENDING THROUGH THE COVER.
DURING MANUFACTURING, THE TANK AND COVER UNDERGO AN "OVER-PRESSURE TEST" TO VERIFY THE TANK AND COVER ASSEMBLY IS LEAK-FREE.