Core design and Manufacturing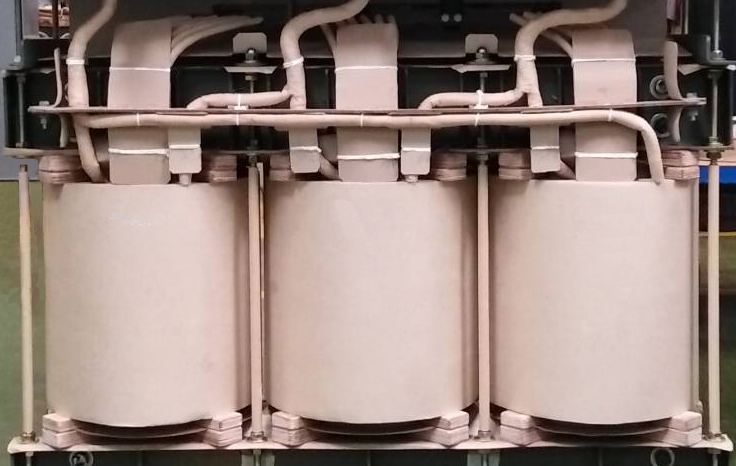 SEC USES A SOFTWARE TO CALCULATE THE COIL DESIGN FOR SHORT-CIRCUIT ANALYSIS. CORES MANUFACTURED FROM HIGH PERMEABILITY-GRADE, DOMAIN-REFINED OR STANDARD "M" GRADE, COLD-ROLLED GRAIN-ORIENTED SILICON STEEL PROVIDE EXCITING CURRENT. ANNEALING ALL CORE STEEL AFTER SLITTING PROVIDES OPTIMAL LOSS PERFORMANCE.
CORE DESIGNS UTILIZE A MULTIPLE STEP CIRCULAR CROSS SECTION WITH FULLY MITERED JOINTS. LAMINATIONS CUT TO LENGTH ON SPECIAL HIGH-SPEED, COMPUTER-CONTROLLED, AUTOMATIC SHEARS TO HIGH DIMENSIONAL ACCURACY ENSURE TIGHT-FITTING JOINTS WITH MINIMUM GAPS TO MINIMIZE CORE LOSS, EXCITING CURRENT AND SOUND LEVELS.
INSULATING THE CORE FROM THE FRAME AND CONNECTING TO GROUND AT ONLY ONE POINT PREVENTS ANY ACCUMULATION OF STATIC CHARGES.
AFTER STACKING, EPOXY, POLYESTER SHRINK TAPE OR STAINLESS STEEL BANDS BOND THE CORE LEGS TOGETHER TO FORM A RIGID STRUCTURE. STURDY STEEL END FRAMES PROVIDE A COMPLETE CORE STRUCTURE OF HIGH MECHANICAL STRENGTH TO WITHSTAND HEAVY STRESSES DURING SHIPMENT OR UNDER SHORT-CIRCUIT CONDITIONS WITHOUT DISTORTION OF THE CORE OR WINDINGS.