FINAL DRY-OUT - VACUUM PROCESSING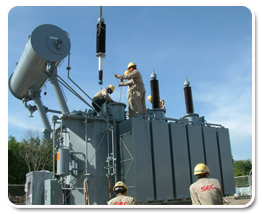 FINAL DRY-OUT BEGINS BY PLACING THE ENTIRE CORE AND COIL ASSEMBLY IN ONE OF THE SEC VACUUM CHAMBERS WHERE A PRESCRIBED SET OF VACUUM AND TEMPERATURE CONDITIONS EXIST. NEXT, SOLVENT VAPORS ARE INTRODUCED INTO THE CHAMBER AND CONDENSE ON ANY COLD SURFACE. WHEN THESE VAPORS CONDENSE, THEY GIVE UP THEIR LATENT HEAT TO VAPORIZATION, HEATING THE CORE AND COIL ASSEMBLY. THE MOISTURE IN THE INSULATION THEN EVAPORATES, DUE TO EITHER THE VACUUM-OPERATING CONDITION OR IN A SOLUTION WITH A CONDENSED SOLVENT.
AFTER THE ASSEMBLY REACHES A UNIFORM TEMPERATURE, THE VACUUM LEVEL IS REDUCED AND MAINTAINED AT AN EXTREMELY LOW LEVEL-TYPICALLY LESS THEN 0.5 TORR-UNTIL THE INSULATION SYSTEM DRIES TO A LEVEL OF 0.5% MOISTURE CONTENT OR LESS.